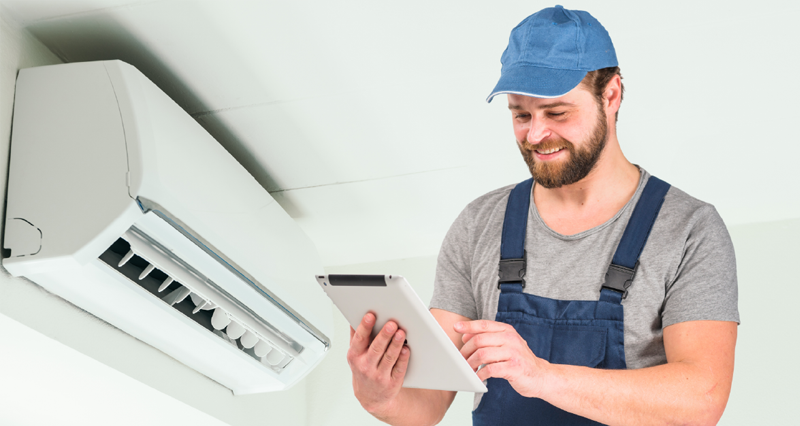 ServitiumCRM mobility solutions are designed to deliver personalized and convenient
after-sales service and improve the overall customer experience.
ServitiumCRM Customer Mobile App
Simplify Customer Service : ServitiumCRM customer app allows customers to create and raise service requests (breakdown or installation) and check the status of service requests. It also enables them to upload product details such as photos of bills, warranty details, installation, etc.
In case the customer device is IoT-enabled, it enables customers to monitor and control that device from the customer app.
Some Salient Features of Customer App
The built-in feature of this app provides product-tips/know-how.
Supports English and Hindi language. Fixed text will be shown in local language. Dropdowns and data entry will be shown in English.
Built-in payment gateway integration.
Customers can view exact location of service technician.
Why Customer Service App?
On-time notification on Product usage.
Notification on New Schemes and Product Launch.
Manage warranty details of the registered product.
Show progress in service request.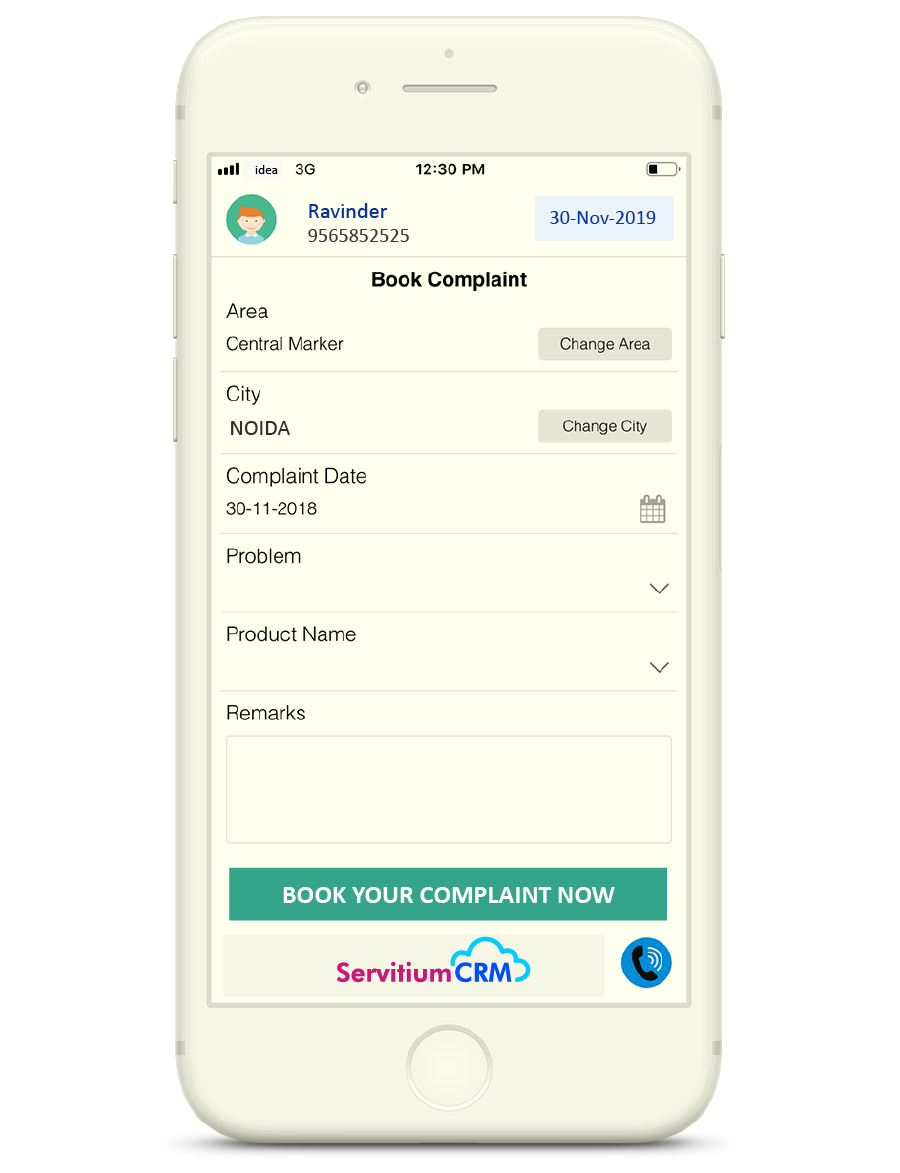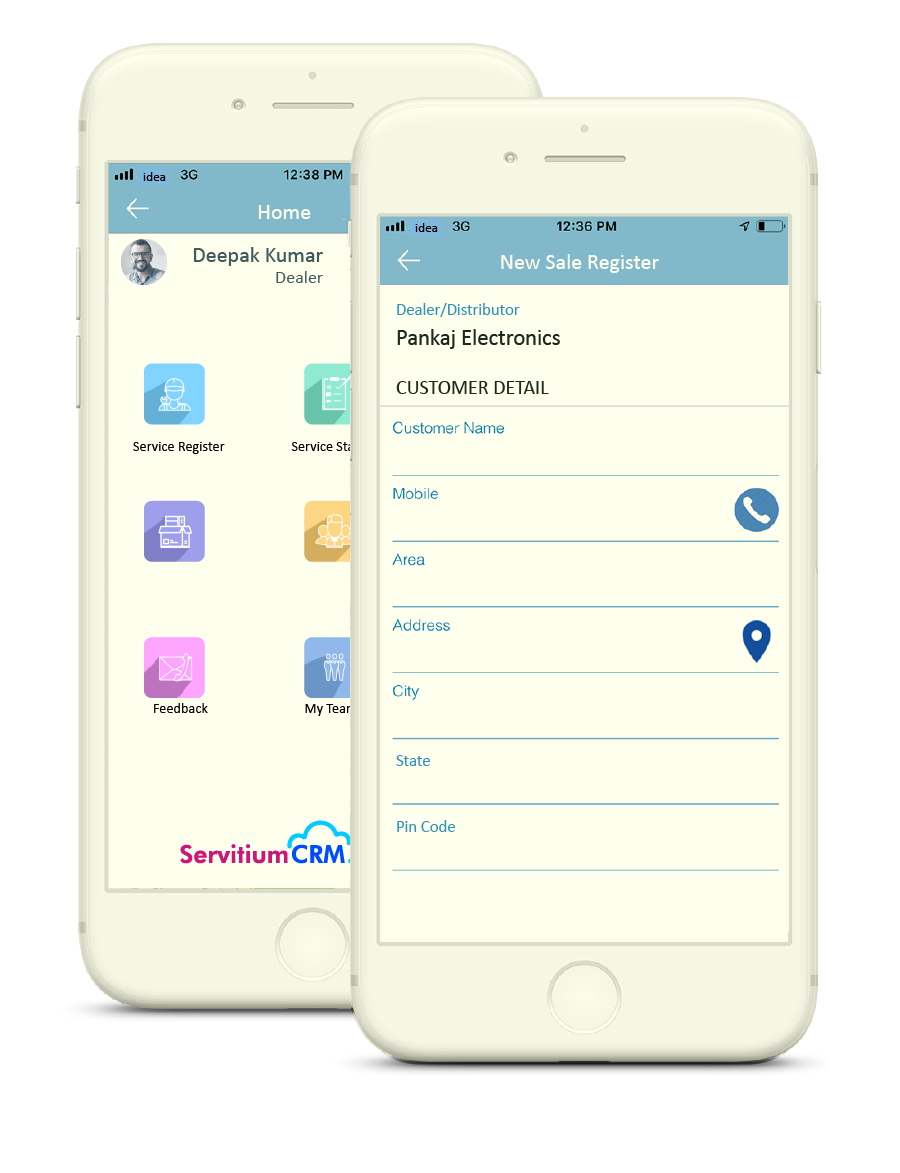 Improve Dealership Management : Dealers and OEMs are always willing to deliver exceptional customer service. To meet this objective ServitiumCRM dealer app can be used as a tool to get a holistic view of the customer which is already registered by dealers and facilitate improvement in customer interaction at every touchpoint.
Very easily dealers can upload customer details and enable OEMs to provide on-time customer service. It also enables dealers to cross or up-sell to customers.
Some Salient Features of Dealer App
Salesperson, Distributors, Project site coordinators, and contractors can raise service requests on behalf of customers.
Capture sales and product details.
Fixed text will be shown in the local language. And dropdowns and data entry will be shown in English.
Built in bar code scanning feature.
Why Dealer CRM App?
Dealers can perform superior administrative activities – view the performance of individual salesperson, create, and manage salespersons.
Dealers can gain visibility from the App.
Cost Savings: Enables OEMs to minimize the call center cost.
Empowers dealers to raise a service request for own inventory or raise service requests for customers.
Field Service Supervisor App
Deliver Superior field service : This app brings agility to your business by facilitating better field service. Within tight timelines, you can use it to schedule and track field service technicians. And assign jobs based on priority, skills, distance, and availability.
In other words, ServitiumCRM Field Service Supervisor App built-in features address post-sales service business challenge such as technician availability, technician utilization, reduction in service costs and time.
Some Salient Features of Field Service Supervisor App
It can be used to allocate or reallocate calls.
The supervisor can close calls on behalf of the technician.
Save service time and cost with technician location tracking.
Why Field Service Supervisor App?
Send the right service technician at the right time
It enables the supervisor to perform all activities as a technician on the app.
Empowers service supervisor to perform critical administrative activities
Check the performance of the field service technician.