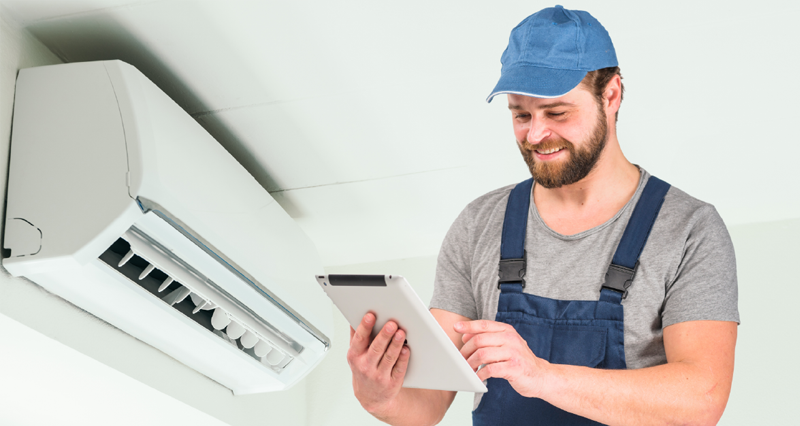 ServitiumCRM mobility solutions are designed to deliver personalized and convenient after-sales service and improve the overall customer experience. Users can perform several tasks quickly and accurately. You can keep your customer service operation running 24/7 while ensuring better workforce management.
Field Service Supervisor App
Customer Mobile App by ServitiumCRM
Make customer service easy & convenient for your customers. With our feature-rich mobile app, customers can solve their product-related issues effortlessly. Our seamless IoT integration allows them to manage their IoT-enabled devices better.
User Management : Customers can self-register any product, scan and upload related invoice copies, add their home address, view service history, track the warranty details, and much more.
Service Request : Customers can raise the service request for any product, view the progress of the request, and submit feedback for a product or service. Check details of the technician such as a photograph & name, current location, and customer can even send their location to the technician.
Customer Connect : Users get push notifications and service alerts related to their service requests, warranty, etc., directly in the customer mobile app. Customers also get app update alerts, new product tips, product information, as well as new launch details.
Features of Customer Mobile App
A comprehensive view of product and service history.
Monitor and control IoT-enabled device health and usage.
Built-in payment gateway integration.
Knowledge bank including product manual for troubleshooting
Supports English and Hindi language.
Available for download from Android or Apple store.
Benefits of Customer Service App
Available 24X7, 365 days.
Complete product information at the fingertips
Effortless Warranty registration
Faster issue resolution
Improved customer engagement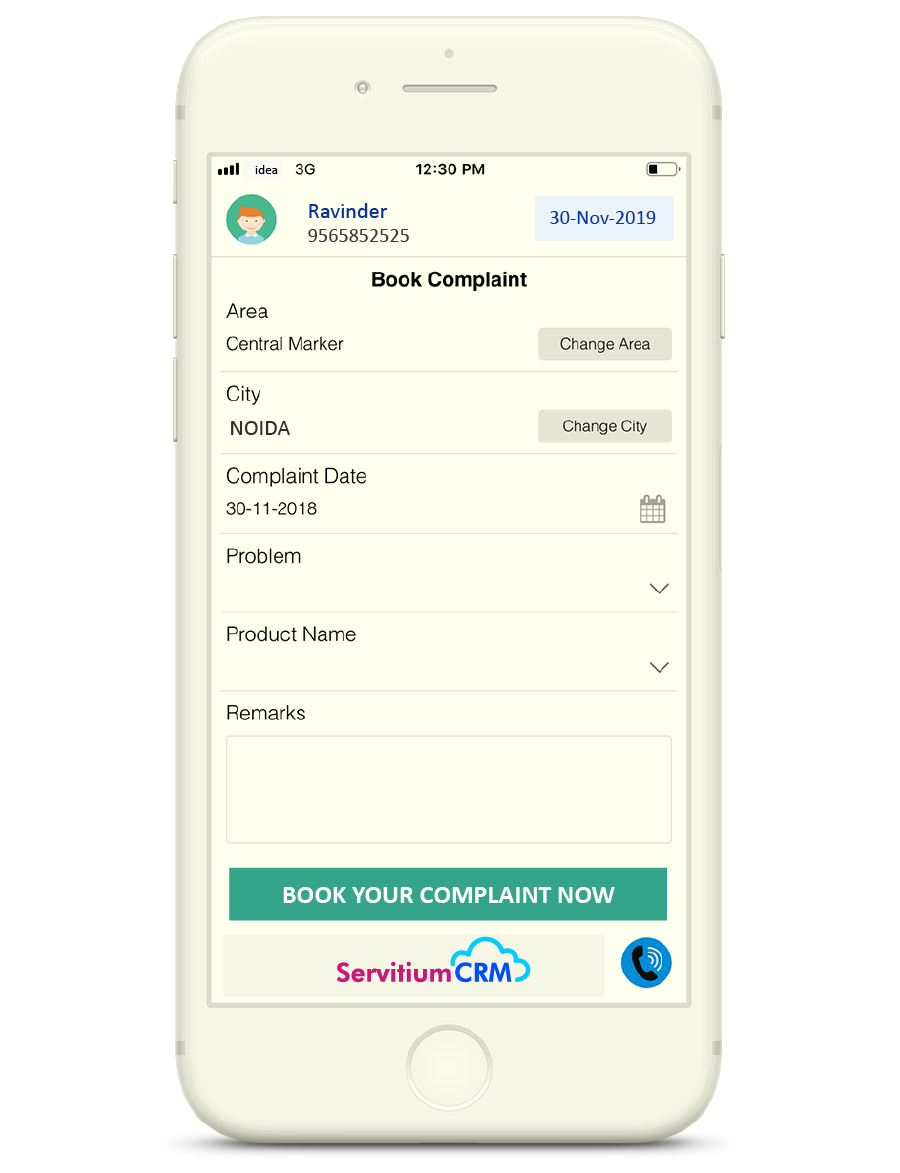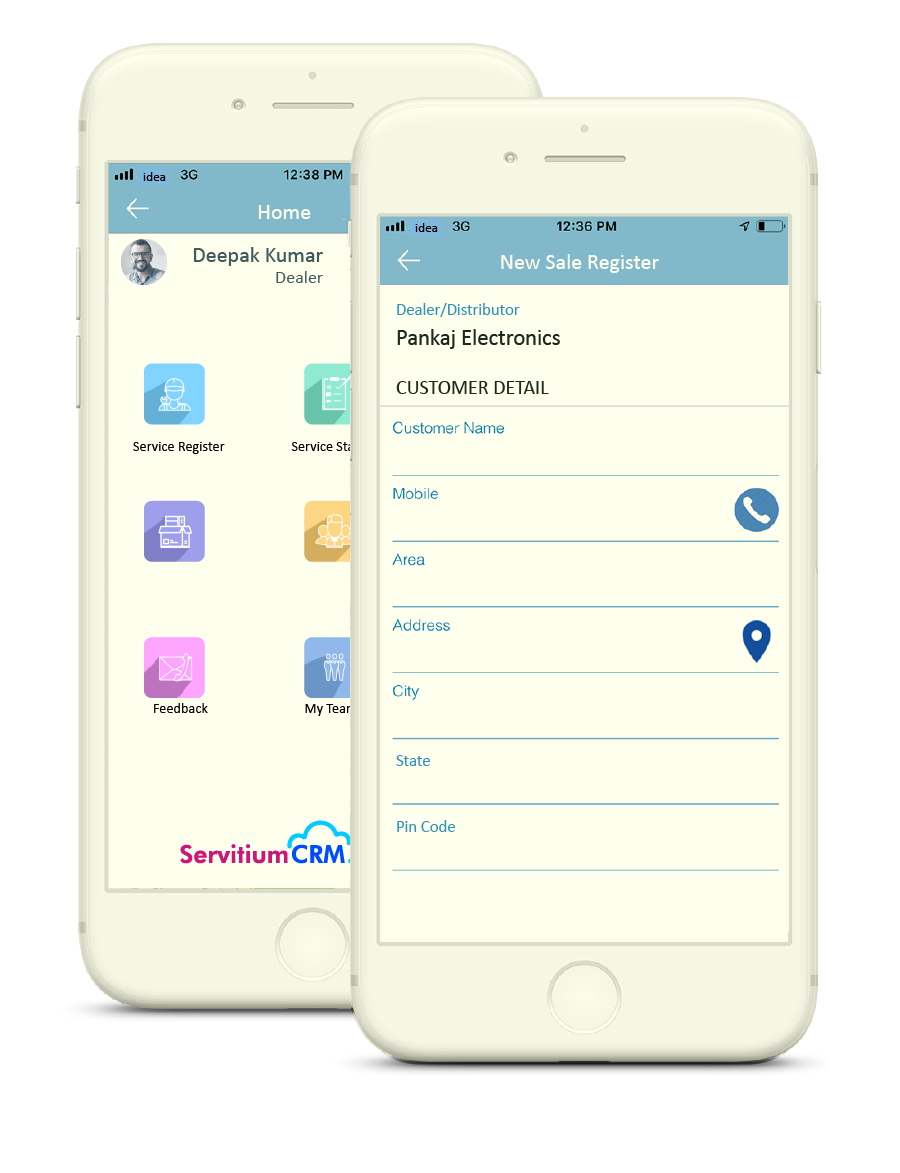 Dealer/Retailer Mobile App
Dealers and Retailers are instrumental in delivering exceptional service experiences. Our Mobile App offers a comprehensive platform for dealers and retailers to ease their administrative, service, and sales needs. Dealers can directly register the complaints or service requests on the behalf of the customers. They directly upload the customer information and enable OEMs to provide on-time customer service.
Dealer Administration : Dealers can evaluate the daily performance of their sales team. They can create and manage individual salespersons, create user profiles, get OEM approvals for the same, and much more.
Customer service focus : Through the mobile app, dealer and retailers can register customer complaints and service requests for owned inventory. They can easily manage their customer's service issues, keep a tab of pending service calls, view closure details of calls, as well as remain in touch with their customers.
Tertiary sales registration : The Dealer/Retailer Mobile App also helps in registering a new sale as well as submitting customer information for a purchased product. Dealers/retailers can also approve demo or installation requests. They also get notifications for new schemes and product launches enabling the dealers/retailers to cross or up-sell to their registered customers.
Some Salient Features of Dealer App
Built-in bar code scanning feature.
Complete visibility of the actual sales.
Product information as well as view of service history.
Supports English and Hindi language.
Available for download from Google play store.
Benefits of Dealer Service App
Available 24X7, 365 days.
Evaluate the performance of every salesperson.
Cross-sell & upsell
Improve customer relationship
OEMs can minimize call center costs.
Increase AMC registrations.
Field Service Supervisor Mobile App
Deliver excellent service with our Field Service Supervisor Mobile App. Enhance the performance of your field service teams. Its built-in features quickly address after-sales service challenges such as aligning the right field service technician to service requests, checking technician availability, utilizing real-time location tracking, etc. Improve team performance, productivity, reduce service costs and increase customer satisfaction.
Allocate/reallocate calls : The supervisor can allocate service calls directly via the field service mobile app. They can check technician availability and reallocate assigned calls basis location or service request criticality.
Assign jobs easily : The supervisor can assign the job to the technician based on priority, skills, availability, and distance. They can even close the call on the behalf of the technician.
Track technician performance : Get a comprehensive view of the field technician's performance with proper stats and day-by-day activities.
Some Salient Features of Field Service Supervisor App
Easily allocate/reallocate calls
Send the right service technician at the right time
Empowers service supervisor to perform critical administrative activities
Check the performance of the field service technician.
Download application from play store.
Benefits of Field Service Supervisor App
Save service time
Track technician anytime from anywhere
Helps to find a skill-based technician