Adopt a Digital Service Delivery Model
WhatsApp* is a popular messaging platform with more than 2 billion global users who spend nearly three hours on average every day, checking their messages. It presents a perfect opportunity for Enterprises to connect with their customers, provide better service, and improve engagements.
ServitiumCRM brings you in-built WhatsApp integration to transform how you connect and interact with your customers. Organizations using this platform for customer outreach are finding themselves successful in quickly and efficiently addressing their customer's questions, queries & concerns.
Solve the daily challenges of your customers and service teams
After-sales service teams often find themselves restricted in providing efficient and seamless service support to their customers. Similarly, customers seeking service support are at a loss in finding timely resolutions to their problems. Let's look at some of these challenges:
• Long wait time to connect with the helpdesk
Many incoming services or support requests get missed or dropped due to few open call lines, high call volumes, and long hold times. Customers spend valuable time trying to connect with a service agent, the delays causing them to sometimes forget the actual queries or concerns. It leads to frustration and impacts feedback and reviews, leaving the company with unsatisfied customers.
• Inaccurate or incomplete information
Partial information capture or insufficient customer data available to service agents results in customers getting incorrect or irrelevant responses for their queries. Unresolved queries mean unhappy customers. Poor service experience increases dissatisfaction amongst customers and hampers not only the image of the company but also leads to business loss.
• Limited Communication
Effective communication is the backbone of customer service. Limited follow-ups, no visibility of progress of complaints or resolution of query, no feedback taken, rude or inappropriate behaviour of the service agents, and more. There can be various other reasons too that can add to the misunderstanding, frustration and anger between customers and customer service representatives, such as the slow speed of the delivery, the number of waiting calls, and the long hold time. It can go a long way in hurting the customer's service experience.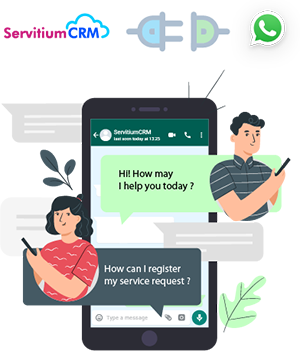 WhatsApp Integration for Customer Support
Connect with your customers on their preferred communication channel. WhatsApp enables you to provide prompt, timely support, and a personalized experience to your customers while reducing costs and improving customer experience.
– Scalable, Instant, and Seamless
– 24×7 Availability
– All forms of communication – text, photos, gifs, videos
– Deflect expensive support traffic to Service Centre
– Reduce service costs
– Improve service efficiency
Build a Robust Support Strategy with WhatsApp
Customers can do so much more through the app, from updating personal details, checking product warranty information, submitting a service request, renewing AMC, or sharing feedback. Organizations and service teams can reach out to customers with a faster resolution to their questions & concerns. Deliver prompt customer service & support via the WhatsApp platform.
Using a chatbot allows you to communicate with your customers without human intervention. Predefined templates can be used to convey periodic updates and information to the customer or answer basic questions. The bot smartly handles customer queries, captures their responses, and pushes the information into ERP/CRM to maintain the records.
Human-Agent Driven Support
Allow your customers to chat with your live agents. Your agents can share prompt responses and quickly resolve customer queries. After connecting with the live agent, the customer will get instant assistance from a highly talented and experienced live agent for their resolutions.
Handle multiple chats at a single time.
Get the complete chat history of the customer.
Get multilingual assistance.
Flexibility to use text, photos, audio, and videos files.
IVR deflection
This is one of the best features of the WhatsApp integration. Redirect all troubleshooting queries or service request registration calls to WhatsApp Chatbot, while all critical issues and escalations go to the live agent at your call center for close monitoring and resolution. This reduces the burden of the call centres and helps manage high volume of calls better.
Better call management esp. in case of high call volumes.
Reduce costing of call center operations.
Resolve customer queries more effectively & efficiently.
Achieve faster TAT
Get relevant and accurate information about the customer questions.
Key features of the WhatsApp integration with ServitiumCRM
Instant Complaint or Query Registration: Customer purchasing any product, can register a service query for installation, billing-related information, quality-related issues, or faulty product, or any other. So, type in your message using the chatbot and your complaint will be registered.
Real-Time Status of the Complaints: Customers can see the actual status of the complaint with the help of the chatbot's messaging facility. Just enter your complaint number and get the real-time status.
Warranty/AMC Registration: Customers can renew the warranty against any product and get the SLA agreement offered by the company.
Update Customer Records: Using chatbot, the service center team can simplify data capture and collect customer information such as name, gender, age, product, and contact information.
Business Initiated & Template Messages: Standardizing push notifications templates of complaint registration, complaint closure, happy code, OTP, capture C-Sat, and opt-in are common use cases.
Ticket generation: After registration of the customer complaint, issue, or query on WhatsApp, a ticket is automatically generated. These tickets can be viewed and accessed easily.
How Do You Benefit from WhatsApp Integration with ServitiumCRM?
Automation

Complete automation of your service call
Reduce the workload of call centers
Quick solution with templatized responses

Accessibility

Access to Single Accounts to multiple teams
Connect anytime from anywhere
Improve Service Efficiency

Security

Secure end-to-end encrypted chats

Customer Engagement

Self-service platform
Build customer confidence with official & verified business profiles
Preferable channel of the customer to connect
Personal chat window to resolve issues one on one
Organizations using this platform as a leading digital communication channel are successfully running their service operations and reaching out to their customers with prompt responses to their questions, queries & concerns.
*Logos and names used are trademarks of their respective owners.